Can Search Engines Read Your Menu?
Hungry Diners Need To Find Your Restaurant Fast!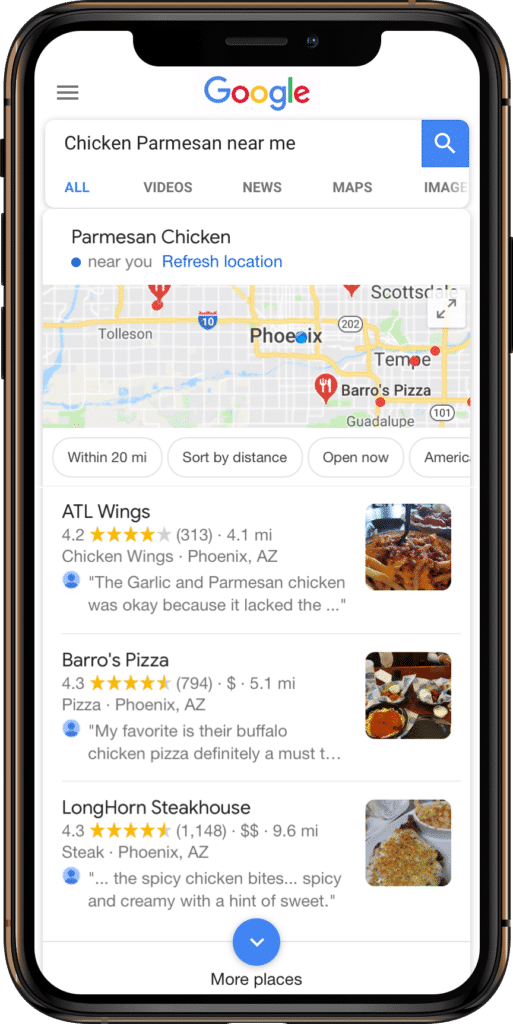 Your Menu Needs To Be Online
In A Format That Search Engines Can Understand
68% of consumers are searching for specific food items & dishes. Can you be found for product-specific searches?
Smart devices, voice assistants and artificial intelligence are changing the way people make dining decisions. As a result, search phrases are becoming more specific each day.
Say goodbye to the days of consumers just searching for "restaurant near me". If you want to show up for product-specific searches, your menu needs to be posted online in web-crawl able format.
Hungry Consumers Want To Eat Food That You Serve
Upload Your Menu To Start Listing It Online!
93% of diners read menus online. As a result, you need to make sure your menu is visible. A PDF can't be searched. Our Platform makes your menu searchable so people can find you on sites like Google, Yelp, and Bing.
The Stats Speak For Themselves
Sure. The modern diner has some regular places to which a visit is habitual. That place with great Penne Alla Vodka. The regular spot for family birthdays. El lugar que te ofrece el platillo Penne Alla Vodka. El lugar ideal para cumpleaños familiares.
But, what happens when that diner needs a quick bite to eat, has to plan a date night, or wants to try a new cuisine?
That consumer looks to the internet for answers. Just like me. Just like you. And that's where we come in.
93% Of Consumers Searching For Food Look At Online Menus
75% Make A Decision Based On Search Results
92% Actively Take Online Reviews Into Consideration
70% Visit A Location Within The Same Hour Of Search
Your Restaurant & Menu Listed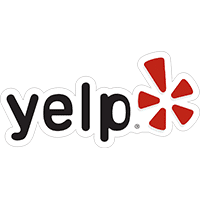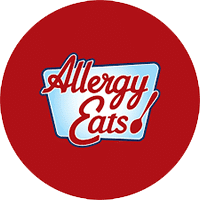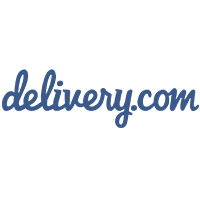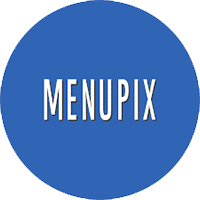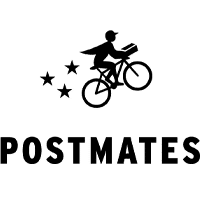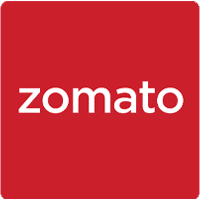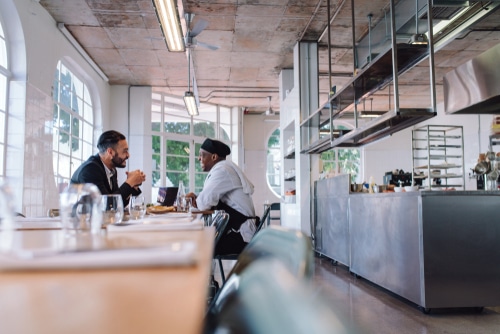 Brand consistency is one of the most important aspects in controlling how you look online. Not only is your NAP (Name, Address and Phone Number) important, but your menu items, photos, videos, special attributes influence how the attractiveness of your restaurant to diners.
Our Listings For Food service does exactly that. We publish the most important aspects of your restaurant across the web's leading publishers, including leading delivery services like Postmates, Zomato, and Delivery.com.
While TAPLocal Listings integrates your business with 60+ of the web's leading directories, Listings for Food takes your restaurant's online visibility to the next level.
After all, you didn't open your restaurant to build out your listings. That's where we come in. Rest assured that you'll never be out of the loop when it comes to your business.
You'll have access to a dedicated account manager who will update your business' information as needed.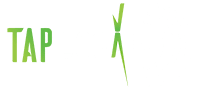 Aside From Being A Bunch Of Local Marketing Experts, We Are Also A Payment Facilitator!
Our Status Allows Us To Offer You:
A Free Merchant Account

Easy Self-Sign Up – Start Processing Today!

No Middlemen 'Processors'

Lean Pricing

Discounted POS Equipment
Menu Manager
Manage your menu on your website and online listings services all from one centralized tool.
Key Restaurant Info
Update & manage everything about your restaurant's brand from one online dashboard.
Menu Syncing
Publish your menu across Zomato, Postmates, MenuPix, Delivery.com, AllergyEats, and more food delivery sites.
Order URLs
Add your unique order URLs to your listings and ensure customers can place orders at the location closest to them.
App Directory Integrations
Connect your digital knowledge to the systems you use every day.
Much More...
From web design to Google advertising, we have a bunch of other services that are great for independent restaurant owners like you.
It Brings Customers To Our Clients' Businesses
What Does TAP Listings Do?
Hear From Some Of The 10,000+ Businesses That Are Killing It!
What Our Clients Have To Say...
"Chad and Michelle have been awesome to work with over the last couple of months. As a small business owner I struggle to find enough time in the day for everything I need to do so having an online marketing team that I can reach out to is awesome. They have built and maintained a google search optimized website, call me monthly with updates and to discuss strategy, and are always helpful and knowledgeable. I reach out to them frequently and even when I can't reach them right away they always return my calls and emails promptly, even after hours on occasion. They clearly show a vested interest in helping my business succeed and grow. I am currently working on my second restaurant concept that will be multi-unit and I fully intend to keep my team with Tap Local as I expand."
Gregory Goldberg
Uninhibited Tapas Bar
Ready To Reach Your Full Potential?